Times change. They just do.
Times change, which means that, in order to stay relevant, we must change as well — or at the very least we should pause periodically to seriously consder what we believe to be true about our world.
Evolve or Die
When it comes to embracing change, old school coach Pat Riley is kind of amazing.
In 1980, Pat Riley was working as a broadcaster for the Los Angeles Lakers when Lakers head coach Jack McKinney was nearly fatally injured in a bike accident. Lakers assistant Paul Westhead took over as head coach and Pat Riley became his assistant.
However, six games into the 1980-1981 season, Magic Johnson announced that he was unhappy playing for Paul Westhead and asked to be traded (yeah, like THAT's gonna happen!). Predictably, Lakers owner Jerry Buss fired Paul Westhead.
In one of the NBA's most bizarre moments, Jerry Buss announced in a press conference that Jerry West, who was standing right next to him, was the new Lakers head coach. Jerry balked. Dr. Buss then awkwardly pronounced West as "offensive captain," then declared Jerry West and Pat Riley "co-coaches." Later in the press conference, West made it clear that he would only assist Riley, and that Riley was head coach.
Talk about embracing change! With one of the lowest possible votes of confidence on record from a team's owner, Pat Riley pretty much stumbled into his now legendary career as a head coach.
In his first 4 seasons as a head coach, Pat Riley coached the Lakers to 4 NBA Finals appearances and two NBA titles. Riley would win a third NBA championship ring before leaving the Lakers in 1990.
After a year of broadcasting (again), in 1991 Pat Riley took the job of coaching the New York Knicks. In New York, Riley impressed the basketball world with his ability to change, going from the fast-paced, "Show Time" Lakers to the defense-minded "Slow Time" Knicks. Riley returned to the NBA Finals as the coach of the Knicks in 1994, but lost to the Houston Rockets.
And of course, Riley eventually found himself head coach and president of the Miami Heat.
Hopefully that brief bio on Coach Riley effectively made this point: Pat Riley is very good at evolving.
Pat Riley's criticism of zone defenses
In 2001, the NBA made significant changes to their defensive rules. This time Pat Riley was not so open to change and on December 8, 2001, Riley expressed his "old school" thinking thus:
"I think it was the biggest mistake ever to allow a zone. When you allow people to just stand in areas in this game and bring great players to a stop and have to attack zones with jump shots, I think you're taking away a lot. I do believe that will probably be addressed during the offseason." — Pat Riley, 2001 (emphasis added).
Evolve or Die: Championship Edition
Interestingly, as David Aldridge wrote for NBA.com, the NBA's rule changes were actually good for NBA offenses:
"The rules changes did what they were supposed to do — open up the game. Scoring average has increased… field goal percentage has increased… three-point percentage has gone up… and fouls have gone down…."
Not only was Pat Riley wrong about zone defenses, but the people who made him wrong and won the next several NBA championships after the rule change were fellow old school coaches: Phil Jackson, Gregg Popovich and Larry Brown.
I wonder if it rattled Riley to see his fellow, old-school peers adapt and succeed where he had not.
The secret dark side of man to man defense
Besides, how could it be that zone defenses opened up scoring in the NBA?
Man to man defenses encourage selfish play and discourage team basketball. Well, for starters, the rule changes also barred hand checking, which allowed guards with good handle (such as Allen Iverson) to contribute more to a game that had very much become a big man's game. In fact, today is being called the best era in the history of the NBA for point guards.
But more significantly, person to person (man to man) defenses encourage selfish play and discourage team basketball.
Read closely what executive vice president of basketball operations, Stu Jackson, said were the reasons the rule changes were needed:
"In the late '90s and the beginning of the decade, the game had become too focused on isolation play, while other players stood around under the old illegal defense guidelines. The game had also gotten too physical and too slow…. All changes were [adopted] with the idea of trying to encourage more free flowing five-man offenses, open up the lanes for cutting and passing and speed up the game by encouraging teams to get into their offenses quicker." — NBA executive vice president of basketball operations, Stu Jackson (emphasis added).
Back when the NBA didn't allow zone defenses, coaching was easier: it was about getting the ball to your best player, such as Charles Barkley, Michael Jordan, Tim Duncan or Shaquille O'Neal, and letting that player do his thing while his teammates stood around watching. If they double teamed him, then you go to your second option.
This is probably why NBA teams of this era were built to have a rock solid "dynamic duo" that did most of the playing (Jordan and Pippen, Bird and McHale, Magic and Kareem, Thomas and Dumars, etc.), with a "supporting cast" that had secondary significance.
But this style of play fosters and rewards selfishness: so long as you can dominate, it's okay to be selfish.
In the movie Hurricane Season (starring Forest Whitaker), Hurricane Katrina had forced high school players to play for strange teams. This particular team had a dominate player with all kinds of attitude because the coach wasn't designing the offense to let him dominate. When the player finally submitted to team play, his father was upset and attempted to poison his son's new team-first mindset saying, "Son, the coach is winning, not you!"
But in basketball as in everything else, it is evolve or die.
The Agile Coach
To his credit, Pat Riley went from complaining about zone defenses in 2001, to shocking the basketball world as he used zone defenses to help him win an NBA Championship in 2006.
In fact, alternating defenses between person to person and zone was instrumental to the Heat's 0-2 come back against the Dallas Mavericks in the 2006 NBA Finals. Pat Riley embraced change once again.
Interestingly, also in 2006, Spain used alternating man and zone defenses to win their first ever FIBA World Championship title.
Coaches, railing against zone defenses is not the answer. Instead, consider the "Pat" answer: accept and adapt. Evolve, or die.
Teaching Zone vs. Teaching Zone Defense
The complaints I have heard coaches use against zone defenses fall into one of two categories:
1. Coaches hate playing against zones because of the adjustments they force on their offensive game plan.
2. Coaches feel that zones stunt players' growth defensively.
I get #1, but I think #2 is a misconception. The problem isn't zone defenses, the problem is coaches who teach zone and not defense.
I have definitely seen coaches "teach" zones in ways that absolutely stunt players' growth.
"Tommy, this is your area. Josh, this is your area. Caleb, this is your area. Sam, this is your area…"
That's not defense, that's homesteading.
The problem isn't that zone defenses fail to teach proper defense, the problem is too many coaches fail to teach proper defense when teaching zone defense. Don't shoot the message, shoot the messenger.Real defense — whether zone or man — is based upon a set of universal principles that adapt and apply to different circumstances — much like the Read and React Offense can morph from 5-out to 4-out to 3-out while always adhering to the same set of principles. In fact, I would say that easily 90% of proper defensive instruction applies equally to both man and zone defense.
This was reinforced for me as I watched Better Basketball's Dynamic Defense DVDs. If I had a dollar for every time I was told that something was the same whether it was man or zone, I'd have enough money to cover the cost of the DVDs.
In other words, the problem isn't that zone defenses fail to teach young players proper defense, the problem is too many coaches fail to teach the proper principles of defense when teaching zone defense.
Don't shoot the message, shoot the messenger.
Should I teach my players to play zone defense?
Jazz bassist Marcus Miller was once asked by a young bass player which was more important: learning to solo? Or to lay down a solid groove?
His answer was, "Who said you get to choose? A jazz bassist has to do both."
I guess that's my answer to coaches who wonder whether or not they should teach their players a zone defense: who says we get to choose? Like them or not, zones are a part of the game.
If you have to score against a zone in a game, then you will want to score against a zone in practice; it's just common sense. If you have to teach a zone for practice, then you may as well use it in games when we need to.
Besides, I would rather be the one teaching my young players correct zone defensive principles.
If we coaches don't refuse to teach zone defenses, that vacuum will simply be filled other ways. In fact, your players will probably end up learning zone defenses from some hack they meet on a playground who makes them play a poor zone in pick up ball.
Young players who play places are going to encounter zones; it's better they get zone instruction from you than from some guy who thinks a hedge is a bush in the yard.
All over the world people are debating zones, but the most important point that can be made about zone defenses is that they are a part of the game, so if you want your players to learn to do them right, coach, it's up to you to see that happens.
Times Change
It is incumbent on every rational person to accept the fact that times change, and we need to as well to remain relevant. These changes — both in our circumstances and in us — should be apparent to others over time.
I like what Ethan Sherwood Strauss of hoopspeak.com wrote on this subject (emphasis added):
Hop on Youtube, watch some old NBA on NBC playoff clips. The style difference is jarring. It's not so much that today's athletes jump higher or run faster: It's that today's five-man defensive organism moves in a completely different manner. Viewing these clips was discomfiting for me, it was like finding out that men used to walk on their hands back when I was growing up–only I'd never noticed.
These days, it's commonly said that defenders should be connected "on a string," their movements inextricably linked. A little over one decade ago, this wasn't the case. Perimeter defenders were bound to whomever they guarded, and guard-defender units would orbit a dribbling post player like single electrons an atom's periphery. If there was a "string," then it connected man to marker.
It is no coincidence that in the USA where the NBA plays mostly man to man defense the league is mostly "star oriented," while in international play, where teams face zones more often, teams tend to be team oriented. Coaches and players have merely adapted to do what wins in their respective leagues.
Coaches, the world has changed.
It's time to let go of that old school thinking that insists that man-to-man defense is the "proper" way to play defense, because that school let out long ago.
Evolve, or die.
Both man and zone defenses are based on the same core defensive principles. Focus on teaching your players to master those principles. Teach your players how to apply these defensive principles when playing playing man-to-man defense, and how to apply them when playing in different zone defenses.
When your players have internalized the principles and can apply them in both man and zone settings, you will be so much more able to stop whatever happens on the floor.
After all, it would be tragic to let outdated prejudices about defense keep a team from winning where it could have.
Racking up losses that should have been wins? That is really stunting your team.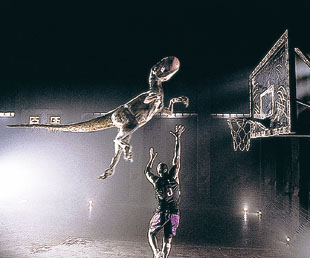 I think the days of man to man defense only are going the way of the dinosaur.
International basketball is having too big of an influences in the USA, bringing with it new ideas (such as circle movement by the way), and zone play. Today's coach is going to need all of this in his tool kit to pull off wins.
Many coaches teach man before zone, because they feel assured that players will have the foundational principles needed to play either. That is solid thinking.
However, that's not to say that those principles can't be taught while teachings zones as well, because they can. In fact, not only can they be taught while teaching zone, but reteaching the principles while teaching zones reteaches the principles for man defenses too.
I personally, and other coaches I know, teach the principles, then show and drill them in man D, then show and drill them in zone D. In other words, we teach them concurrently. But in the past I've taught man before zone and still like that approach too.
What I don't like is the thinking in some circles by people who are down on zones for the wrong reasons. They look at zones as if zones are cheating and less manly.
I was hoping that my writing of old school coach Pat Riley's conversion from man-only to hybrid man and zone would be a subtle yet effective influence people to think otherwise…
But defensive juggernaut (and national champion) head coach Tom Izzo of the Michigan State Spartans is much less subtle. He said:
"The notion that you're not a man's man if you play zone is ridiculous. Sometimes we let our egos get in the way of our brains." — Tom Izzo, Head Coach, Michigan State
Whether you teach man BEFORE zone, or teach man and zone defenses concurrently, at least teach your players both — and the foundational principles that should be practiced in both. That way teams — and players — have both philosophies in their arsenals.
Evolve, or die.