While I am glad the game of basketball has so many passionate fans, I do wish many would think before they speak, or at least not be so chronically negative. Take, for instance, this typical fan post on the Internet bashing Utah Jazz coach Jerry Sloan.
On June 25, 2010, after the 2010 NBA draft, a so-called Utah Jazz "fan" posted this complaint on the comment boards of news site KSL.com:
"As long as Sloan is our coach it doesn't matter who we pick. If they are excellent shooters coming in to the league he'll mess with their heads until they can't hit a shot anymore. If they can drive the middle, he'll make sure they park their butt outside and never drive the middle.
"Sloan has NEVER had the ability to take the natural talent his players have and modify his system to get the most out of each player. By the time he gets through forcing them into his mold they are ruined and have lost all confidence in their natural abilities.
"Great coaches adjust their systems to take advantage of their player's natural strengths. Sloan has never had that ability and never will. Until we get a new head coach we will never have any chance of making it to the NBA finals ever again."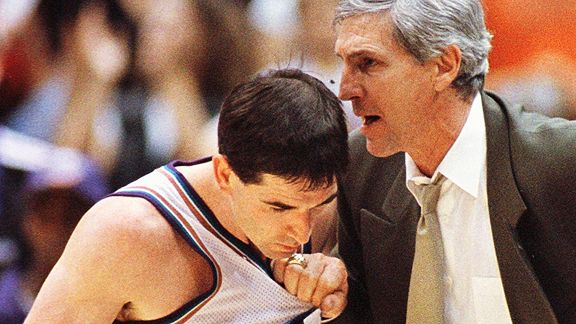 Sigh. I have to confess that I'm the kind of person who tends to feel embarrassed for people who don't have the good sense to be embarrassed for themselves.
According to this guy, Phil Jackson is not a "great coach" given that Jackson forced every player he's had in the NBA to learn his Triangle Offense, including Michael Jordan who famously hated it at first.
In fact, Jerry Sloan haters such as this are so absolutely wrong about Sloan I don't even know where to start.
When Sloan took over the Utah Jazz in 1989, he quickly formed the Jazz into a tough, hard nosed, blue collar team that rebounded and played hard defense. At the time, people assumed that the Jazz were like this because Sloan was like this as a player.
Then again, this style really worked well with that roster.
With talents like John Stockton and Karl Malone, the Jazz relied very heavily on a pick and roll offense that was the most predictable offense in the NBA, but very hard to stop because of the quality of the people executing it.
However, Sloan has TOTALLY changed the Jazz today, based on the players he has now.
The flex offense the Jazz run today has much more motion and ball movement. Unlike the Jazz of yesteryear, today's Jazz are a high scoring team, and lead the NBA in assists.
By the way, I don't remember Mark Eaton playing on the perimeter shooting 3s, or Greg Ostertag for that matter, and with good reason. Mark Eaton was 0 for 2 in his entire career from the arc, and Ostertag was 1 out of 10 for his career.
Yet Sloan has certainly worked that aspect of his current center's game into the Jazz offense, hasn't he?
When Mehmet Okur was with Detroit, he averaged 129 3 pointers per season. However, when Okur got to Utah, he DOUBLED his 3 point attempts!
Think about that.
Before Okur, the Jazz didn't have their centers shoot 3s.
Before arriving in Utah, Mehmet Okur didn't shoot too many 3s.
However, Mehmet Okur has averaged 256 3s a season for the last 5 years since coming to the Jazz, meaning Sloan deliberately changed both Okur's game and the Jazz offense to take advantage of Okur's perimeter touch.
In other words, according to this fan's definition of "great coaches," Jerry Sloan qualifies because he "adjusted his system to take advantage of his players natural strengths."
So, according to these obsessively negative Utah Jazz fans, Phil Jackson is not a great coach, but Jerry Sloan is! 🙂
People need to quit bashing Sloan for their imaginary perception of him, and wake up to what he's done in reality.
Jerry Sloan has a career winning percentage of .603, has had TWO losing seasons in 22 years of coaching, and a run of fifteen straight playoff appearances.
While a surprising number of fans don't get it, pretty much every NBA PLAYER does, and they have tremendous respect for Jerry Sloan. When a coach can stay in place for 23 seasons in this business, that certainly sends a message to these over-praised, over-paid, prima dona NBA players to take Sloan seriously, 'cause he ain't goin' anywhere bub, YOU are!
And that works. How else can you explain multi-millionaire grown men willingly submitting to a curfew while on the road? I've read the Utah Jazz are the only team in the NBA to still enforce a road curfew — although I've also read that Kobe Bryant makes his Lakers teammates live by one too — especially during the playoffs.
There is a growing list of players and coaches who have never won NBA championships simply because they had the bad luck to play in the Phil Jackson era.
At the time we all assumed the wins were the result of the greatness of Michael Jordan, and we didn't listen when Jordan issued the ultimatum: bring back Phil or I will retire.
Then Jackson went to L.A. and took the same roster that managed to bow out in the early rounds of the playoffs for two years in a row, and in one season made Kobe Bryant and Shaquille O'Neal three-peat NBA champions. And again we credited the players and not the coach. And again no one listened when Shaq said Phil was the great coach of all time and he wouldn't play in L.A. for another coach.
Just as I do not think of Karl Malone, John Stockton, Steve Nash, Patrick Ewing, Reggie Miller, etc. as losers, neither do I consider Jerry Sloan as one.
But I would be open to considering people who refuse to acknowledge reality for that title. 😉
Seriously though, people knocking Sloan is yet another classic example of people seeing only what they have predisposed themselves to see.
Seriously, if the Jazz were to let go of Jerry Sloan today, and if Phil Jackson and Doc Rivers were to retire this summer like they are both talking about doing…
You can bet both the Lakers and the Celtics would give serious thought to hiring Jerry Sloan as their new head coach.
Again, the two winningest franchises in league history would give serious thought to grabbing the very coach that whiny Jazz fans want to throw away.
Granted, Coach Sloan has no championship, but frankly, in the Phil Jackson era, the same can be said of many very worthy coaches.