Note: this is the 4th article in a 5 part series:
Part 1: The RGB of the Read and React Offense
Part 2: Spacing and the Read and React Offense
Part 3: Dribbling and the Read and React Offense
Teamwork versus Talent
Le dunk de la mortAs a culture, although Americans say we love teamwork and loathe selfish players, in reality we tend to dismiss the value of teamwork, and drool over talented and flashy players, even if they are somewhat selfish.
For example, I both love and hate the following 59-second clip:
If for some reason you couldn't see the clip, it is a replay of what the French media dubbed, "le dunk de la mort" (the dunk of death) — Team USA player Vince Carter jumped completely over France's 7'2″ center, Frédéric Weis, and dunked the ball on the way down.
I love it because…
a. The play starts with defense (a steal by Vince Carter).
b. It is just astounding to see someone in normal game flow jump over a 7'2″ guy and dunk.
c. An unnecessarily fancy pass was the true beginning of France's embarrassment on that play.
I hate it because, well, just look an overhead still photo of that play:
Other than the blurriness, what's wrong with this picture?!
Kevin Garnett, Vin Baker and Gary Payton are all open near the basket, yet Vince Carter risked an offensive foul and a turnover by taking it right at Weis himself rather than passing to an open teammate.
Granted, given how it turned out, it really is hard to fault Carter for not passing in this instance, but it is an interesting decision, isn't it?
Don't get me wrong — like I said, I both love and hate this clip — but pretty much 100% of the American basketball community has probably never thought to see this play as anything other than mind blowing. For some reason it's never occurred to most of us that in reality, this might have been a very selfish decision that just happened work out really really well!
After all, all Weis had to do was put his arms over his head for verticality — or flop when Carter initiated contact — and we would probably all be rolling our eyes and shaking our heads at Carter wondering, "What was he thinking?!"
There is another decision to be observed in that clip. After the made basket, Gary Payton and Vin Baker turned and ran back to play defense. Vince Carter and Kevin Garnett, on the other hand, stayed back to flex their muscles at each other and scream.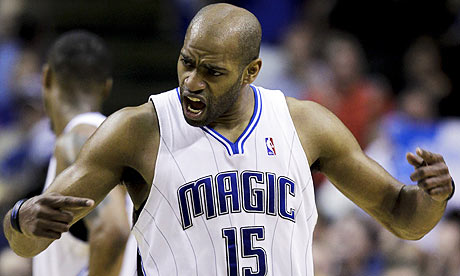 Vince Carter's decisions are even more interesting if you look at them in their historic context.
Not only has Vince Carter's career come to be marked as a player more interested in making the highlight reel than becoming an NBA champion, but…
Looking back at 2000's Team USA, this team is now considered to be the beginning of the end of USA's dominance in international basketball.
The Talent Myth ExposedFor as shocking as Vince Carter's dunk was, the world was even more stunned when in the quarterfinals this team barely managed a 2-point victory over Lithuania, a country about the size of the state of Missouri, and who at the time had no NBA players! Nevertheless, that game came down to the very last shot, a missed 3-pointer at the buzzer by Sarunas Jasikevicius.
In fact, the world was so astonished that NBC, knowing it now had a market for it, changed its worldwide broadcast plans for the gold medal game, broadcasting it live on Saturday night (2 p.m. Sydney time) instead of by tape delay during prime time on Sunday as planned.
For the first time since using NBA players, despite their colossal advantage in player talent, Team USA could not dominate it's opponents anymore, and the world knew it. And the scores started to reflect it as the 2000 USA Men's Basketball Team was no longer beating teams by double digits.
Vince Carter leaping over a player? Yep, that's big time talent.
Team USA needing luck to pull out a win against a country with a population about that of the state of Connecticut? That's just wrong, but for some reason, the United States wrote it off as a fluke and ignored the warning signs.
But as far as the rest of the world was concerned…
The 2000 USA Men's Basketball team had just officially given the basketball world it's clearest-ever evidence of the power of teamwork — even against laughably superior talent.
Winning the gold medal in 2000 was the worst thing that could happen to the USA men's basketball, because rather than come to terms with the fact that talent can be trumped by teamwork, the United States proudly chose instead to live in denial.
Consequently, in 2002, Team USA would "take its talents to" Indianapolis, Indiana for the 2002 FIBA World Championship, and lose to Argentina, Serbia and Spain, and finish a humiliating 6th place, despite having home court advantage.
You would think that would wake Americans up to the importance of teamwork, but no. Unbelievably, Americans were still in denial of the importance of teamwork, and rationalized that the problem was that USA did not put its best players on the court in 2002.
So for the 2004 Athens Olympics, Team USA beefed up its talent with the likes of LeBron James, Dwayne Wade, Carmelo Anthony, Amar'e Stoudemire, Allen Iverson, Tim Duncan, Stephon Marbury, Carlos Boozer, Richard Jefferson, Shawn Marion and Lamar Odom, and were coached by Larry Brown, who was fresh off of his teamwork-oriented NBA championship victory over the supremely talented Los Angeles Lakers (with Shaquille O'Neal, Kobe Bryant, Karl Malone, Gary Payton, etc.) …
Only to lose to Puerto Rico, an island about a third the size of the state of Hawaii. And USA didn't just lose, it lost by 19 points, the largest margin of defeat ever for USA basketball in international competition, including before it used NBA players! Two more losses would follow, and America would have to settle for the bronze medal.
Teamwork Proves Itself AgainOnly then did USA basketball humble itself enough to acknowledge what the rest of the world had long known about the power of teamwork. To reword "Coach K's" famous saying a bit better:
No matter how strong each of your 5 fingers are, they will never be able to make as powerful an impact individually as a slap, as they will together as one fist.
Hence the 2008 Olympic "Redeem Team."
But just because USA Basketball Director Jerry Colangelo and Head Coach Mike Krzyzewsk gave more than just lip service to the value of teamwork, it doesn't mean all Americans get it now as well.
In fact, basketball at every level in America still tends to think in terms of talent, rather than teamwork.
If you don't believe it, just look at the expert predictions on ESPN.com for who they thought would become the 2011 NBA Champions. Clearly we are all still looking at talent (Miami Heat, Los Angeles Lakers, Boston Celtics) and overlooking the contribution of teamwork, the hallmark of the eventual 2011 NBA Champions, the Dallas Mavericks.
I hope that someday the American basketball community will learn to drool as much over a player's team-oriented mindset as we do his athleticism, size and talent.
In the meantime, we Guardians of the Game need to teach the rising generation the value of teamwork, and drive it deep into their DNA by having them play in a system that inherently requires and rewards them for playing as a team.
One of those systems is the Read and React Offense.
Passing and the Read and React Offense
The mandatory spacing and player movement required with passing the basketball in the Read and React Offense makes Read and React an excellent system for teaching players how to play unselfish, team-first basketball.
As you will remember,
In RGB part 1, we agreed that the "red, green, blue" core principles of all half court offense are: spacing, player movement and ball movement.
In RGB part 2, we established that the core principle of spacing is to make life more difficult for defenders.
In RGB part 3, we revealed that the core principle of player movement on a dribble drive is for teammates to place themselves in a passing window while the drive is taking place.
Well, in RGB part 4, the core principle of player movement when passing is that passing is about giving back to the team for trusting you with the ball in the first place.
As you know, 90% of the game of basketball is played without the basketball in your hands, so if you have the ball, it is because your teammates trusted you to have it at that time and in that place, so when you pass it to another, you need to give back to your team for their trust in you.
How do you do give back to your team after you pass the ball?
1Pass and Fill
Pass, cut to the basket, then fill a corner position along the arc.
2Pass and Post
Pass, cut, then take a post position around the key, or a short corner.

3Pass and Screen
Pass, then cut to set a screen off the ball to free up a teammate.
4Pass and Pick
Pass, cut, then return to the ball handler to execute a pick and roll.
If a skip pass has been made, the players stay put, although if the passer forgets and cuts, everyone knows what to do and it's fine.
If a player passes and cuts, his teammates need to remember that the positions nearest the ball always need to be filled, so they will need to circle rotate to fill them (see illustration below).
If you pass to a post player, preserve good spacing by making your cut over a post spot near the ball handler (see illustration below).
The AnimationIn the Read and React Offense, every pass triggers player movement, which means that a team that passes a lot, also has a ton of player movement, and great spacing… and is just a nightmare to defend.
To get a better idea of what the player movement on perimeter passing should look like, study the animation below. Clicking "Next" gets the movement started.
The 4 Second Rule
To make sure our team is thinking pass first, I teach my players that half court offense, like dance music, has a rhythm to it, and something has to happen at least every 4 counts.
Ball Hogs
Some players will pass, but only after they've "enjoyed" having the ball a bit first. They'll jab step, juke, fake, or worse, meander dribble about the floor, sometimes pulling moves so they can be amused at the defense's response.
It's been my experience that players who see nothing wrong with doing this will argue with you if you tell them that they are killing the rhythm and flow of the offense. Since I don't argue, I remedy the situation with a combination of Basketballogy Scrimmages and by video recording games and some scrimmages. While watching the video playback with the team, I sometimes count out loud the passes per possession, and then count out how many seconds these players dominate the ball when they get it. In this setting, it is pretty hard for them not to see it when we are all watching it together on a 70-inch, high definition TV.
Think Fast
I also tell my players not to wait until they have the ball to decide what they will do with it. While the ball is in the air, they can be thinking about exploding into an attack, be it shot, pass or dribble, and attack with the advantage of having caught the defense by surprise.
The DrillTo practice player reactions to passing, we start simple and build from there. We start with a slow, 5-out passing drill, and let it gain in briskness as the players get used to cutting and filling. Next we run the same drill 4-out, so players can get used to passing with a post player, and the post player can move and set picks for cutters.
Then move them on to our favorite "drill." We set up two half court scrimmages with a highly specialized set of rules designed to instill good playing habits in the players, such as generous ball movement. For example, players are not allowed to dribble more than twice; if they do, it is a turnover. You can read more about the Basketballogy scrimmage here.
This scrimmage is so beloved and so powerful that when our team is more familiar with the offense, I actually start off our practices with Basketballogy scrimmages now. Why?
Because after playing two or three games while only being allowed to dribble twice, the ball movement and player movement isn't just fantastic, it's ingrained in them and is a natural part of the texture of their play the rest of the day. Seriously, the rest of the day in everything else we do, my players are thinking pass first, and dribble minimally.
Again, in the Read and React Offense, every pass triggers player movement, making a frequently passing team a very effective half court team. The ways of scoring with a team that spaces, shares the ball and moves like this are pretty much infinite.
The Unknown IronyDid you know that in 2004, when USA's roster of NBA players settled for the Olympic bronze medal, a couple of long standing USA Olympic individual records were broken?
Stephon Marbury set a new USA single game scoring record with 31 points, and Allen Iverson set a new record for 3-point shots attempted in a single game with 10 attempts.
Even USA's original "Dream Team" (with Michael Jordan, Larry Bird, Magic Johnson, Scottie Pippen, John Stockton, David Robinson, Charles Barkley, etc.) never had a player score more than 30 points, or huck up so many 3's — not that anyone believes these players weren't capable of it had they wanted to.
Yet despite their individual, Olympic record-setting "accomplishments," neither Marbury nor Iverson were invited back to play with the 2008 Olympic "Redeem Team."
Hm.
And did you know that in 2008, the USA "Redeem Team" did not break any individual records en route to a gold medal? However, they did manage to lead the entire world in assists per game (18.75) and in assist to turnover ratio (1.36), indicating that as a team, they were sharing and caring for the ball.
And on the defensive end of the court, Team USA led the world in field goal defense, and in 3-point field goal defense. Setting the tone for Team USA's selfless effort, reigning NBA MVP, Kobe Bryant, asked to guard each opponent's best player. Against Brazil, Bryant faced Leandro Barbosa, the tournament's scoring leader. In preparation for the match up, Bryant had DVDs made of Leandro Barbosa's entire offensive repertoire. Bryant studied over 200 of the "Brazilian Blur's" moves, in games playing both for Brazil and for the Phoenix Suns, and studied shot charts documenting Barbosa's efficiency at each move. Kobe Bryant's defense astonished the world, particularly Leandro Barbosa, who was averaging 27 points per game, but manged just 4 points against Team USA (and 2 of those were free throws). Kobe's focus was clearly on "the 90%," the part of the game of basketball where the ball wasn't in his hands.
The irony is that the group that put their team's success ahead of individual accolades, the 2008 "Redeem Team," has been immortalized in USA basketball history, as have its players for what they accomplished together. By contrast, the individual records of Allen Iverson and Stephon Marbury of the 2004 Team USA were pretty much forgotten the moment Team USA received their bronze medals.
I'm not saying that there is no place in basketball for players who are primarily "me-first," I'm saying that their place is not often first place.
In Conclustion…
Like many coaches, from time to time I have been criticized by parents or players for not having my best players on the floor at a critical moment. They are sure I made a grave mistake — and maybe I did.
But in situations like that, I really don't want my best players on the floor, I want my best team, and unfortunately, some talented players can't always be depended on to put their team first.
Believe it or not, sometimes a coach just doesn't need a player who can leap over a 7-footer in a single bound, but needs instead a team of willing passers.
Of course, the ideal would be to have a player who could hop over a 7-footer when the team needs such a superhuman feat, but won't if passing the ball is best for the team.
Because no matter how strong each of your 5 fingers are, they will never be able to make as powerful an impact individually as a slap, as they will together as one fist.
You now have all the background to move on to Teaching the Read and React Offense: the Basketballogy Method (Part 5 of 5).